For the latest News, Updates and Important International Aeronautical Information, visit our on-line forum CLICK HERE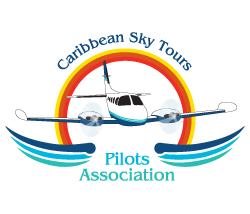 Mexico-GAP Rates Revised
The good news is that GAP has agreed to stand down from the rate structure they were seeking to impose on General Aviation aircraft. While the rate increases remain in place, they will be applied based on the actual weight of the aircraft and not on an inflated minimum MTOW. This has a significant positive impact on rates.

The agreement was reached Friday afternoon in a meeting between GAP management and with local Guadalajara representatives from the Mexican pilot association FEMPPA and other local operators. The changes will not be published in the Federal Register until the end of December (at the earliest) but they are going to respect the agreement until it is published. There are a few details still to be confirmed:
• That the rates apply to Mexican and foreign registered aircraft. It is expected to apply but the focus of the meetings was Mexican aircraft so this needs to be confirmed
• There was a verbal agreement to eliminate the one-time "ramp fee" and only use the overnight parking rate. The net effect of this is that for short stays the total cost versus the old rates may be minimal
• While the percentage increases may still look significant, the actual numbers are actually very modest and should not be a factor that would impact a pilot's decision to use a GAP airport
We have developed an updated table of pricing for GAP airports that reflects these changes. Click on the link below to download.


For more information, contact Caribbean Sky Tours at +1 786 206 6147 or at info@caribbeanskytours.com



---
CUBA APIS
Please note that CUBA requires APIS for all inbound flights. Published in Cuba's Official Gazette in March 2007, Cuba implemented its APIS which also applies to GA flights.
---
Re-opening of the Staniel Cay airport (MYES)
The Bahamas Civil Aviation Department has announced the re-opening of the Staniel Cay airport (MYES) effective November 18, 2015. Please note the temporary restrictions on operating hours of sunrise to 3:00 pm daily while some remaining construction is finalized.

As many will recall, the runway was closed unexpectedly due to perceived risks associated with the runway surface. The closure was a major problem for residents and hotel operators on the island as well as for the visitors wanting to travel to Staniel Cay by air. This is great news and the timing is perfect as the tourism season has begun. Following is a portion of the official announcement:

Nassau, Bahamas - The Ministry of Transport & Aviation is pleased to advise that the Staniel Cay Airport has been re-opened to air traffic, effective today, November 18, 2015. A Notice To Airmen (NOTAM) has been issued by the Department of Civil Aviation, advising that the new runway is classified as a Code 2b airport, with a newly paved runway 3,000 ft. long and 75 ft. wide. The airport will be opened during the hours between sunrise to 3:00 pm daily. These hours of operation will remain in effect until final construction on the Runway End Safety Area (RESA) has been satisfactorily completed. It is anticipated that this process will be completed in two weeks' time, allowing for regular operational hours to be re-introduced, that is from official sunrise to official sunset.
---
Airports operated in Mexico by Grupo Aeroportuario del Pacífico (GAP) raise rates by over 400%
November 11, 2015. Effective November 08, 2015, airports operated in Mexico by Grupo Aeroportuario del Pacífico (GAP) have raised rates for landing, ramp and parking for General Aviation aircraft. In addition to this increase, they have also penalized smaller aircraft by applying a minimum rate applicable to larger aircraft.
Rates in Mexico are assessed based on an aircraft's MTOW. However, GAP is now assessing ALL aircraft a minimum MTOW of 11,000 lbs which further impacts the cost increase. In the case of Tijuana, aircraft are assessed rates with a minimum of 22,000 lbs MTOW. The combined impact is over 400%. These rates were approved by Mexico's DGAC.
Airports operated by GAP are:
• Aguascalientes (MMAS)
• Guadalajara (MMGL)
• Leon/Guanajuato (MMLO)
• Hermosillo (MMHO)
• La Paz (MMLP)
• Los Cabos (MMSD)
• Los Mochis (MMLM)
• Manzanillo (MMZO)
• Mexicali (MMML)
• Morelia (MMMM)
• Puerto Vallarta (MMPR)
• Tijuana (MMTJ)
The table below shows the new MINIMUM rates for landing, ramp and overnight parking (per day) for each airport. It also compares old versus new rates for a C182 at the Los Cabos airport (MMSD) to put the increases into perspective. Pilots should take these new rates into consideration when choosing destinations in Mexico. Please note that Tijuana has 2 sets of rates: Off Peak is between 17:01 and 07:59 and LT Peak is from 08:00 to 17:00 LT.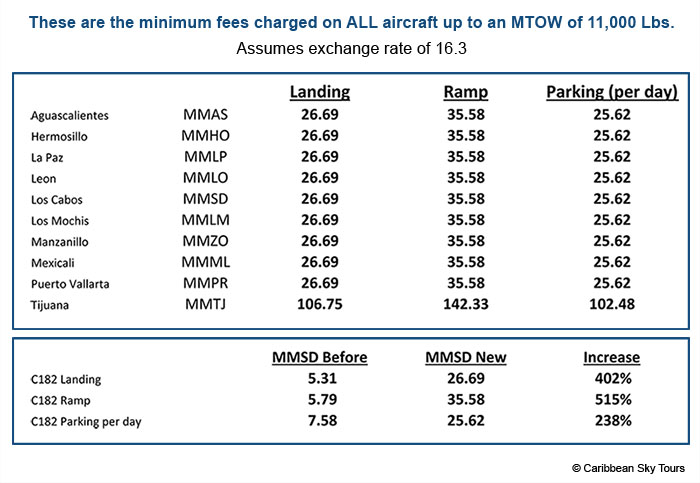 For more information, contact Caribbean Sky Tours at +1 786 206 6147 or at info@caribbeanskytours.com
---
Flying private aircraft to Cuba
Since January of 2015, U.S. requirements and regulations for flying private aircraft to Cuba have continued to relax and CST continues to monitor the situation. The information below should only serve as a guideline to the current state of affairs for Part 91 operations from the U.S. to Cuba and can be expected to continue changing in the near future as diplomatic relations between the two countries continue to normalize.

There are now 12 authorized travel categories that qualify under OFAC (Office of Foreign Asset Control) Department of the Treasury's for a General License. Earlier this year the requirement to obtain a temporary sojourn license from the Bureau of Industry and Security BIS (Department of Commerce) was lifted and U.S. citizens flying part 91 to Cuba need to determine on their own if they fall into any of the license exception categories established by BIS. OFAC and BIS appear to be working in coordination which was not the case earlier this year. In spite of all these changes it is important to note that Travel for tourism to Cuba is still prohibited. The U.S. trade embargo has not been lifted.

For more details on recent updates published in September 2015, download the following document:
Additional points of interest:

• There have also been relaxations in the regulations allowing spare part shipments to Cuba to exchange a part in case of mechanical and/or maintenance issue.
• You still need to check with your insurance company to see if coverage may include Cuba.
• Aircraft are allowed to stay in Cuba for up to 7 days. Professional crew, however, cannot.
• You are required to keep records of your travel and related transactions with Cuba for 5 years after the travel.

Our position remains to be that there are still a number of issues that need to be clarified and corroborated before we will feel comfortable sending customers to Cuba. The FAA restricts operations to the following authorized designated CBP airports for flights to Cuba:



Please contact CST at info@caribbeanskytours.com or call our toll free number 888 632-3196
if you have additional questions or comments.



---
New U.S. Customs and Border Protection facility at FXE
October 1, 2015. Fort Lauderdale Executive Airport announces the opening of a brand new customs facility along with extended hours from 8:00 a.m. to Midnight. The new location is:
BY LAND: 5301 East Perimeter Road, Fort Lauderdale, Florida 33309
BY AIR: Proceed to Taxiway G7 (at the east end of Taxiway G)
NEW PHONE NUMBER FXE CUSTOMS: (954) 491 5647
---
New ADS-B (Automatic Dependent Surveillance-Broadcast) Regulation for Mexico
Following is a summary of the Project for the Official Regulation (NOM) published in Mexico's Federal Register in February 2015. According to this document, compliance is required starting in 2018. The period for comment on this regulation was for 60 days after initial publication and is now over. However, changes to this regulation may still be possible through the committee appointed to draft the regulation. Item 1 can potentially affect piston aircraft wanting to cross the Gulf of Mexico that have not yet installed ADS-B in their aircraft.

1) As of January 01, 2018, unless otherwise authorized by ATC, no aircraft may fly in Class E airspace over the Gulf Of Mexico at or above 3,000 ft MSL beyond 12 Nautical Miles from the Mexican coastline unless the aircraft is equipped with an ADS-B Version 2 system transmitting on 1090 MHz

2) As of January 01, 2020, unless otherwise authorized by ATC, no aircraft may fly in Class A airspace unless the Aircraft is equipped with an ADS-B Version 2 system transmitting on 1090 MHz

3) As of January 01, 2020, unless otherwise authorized by ATC, no aircraft may fly below 18,000 ft MSL AND in the following airspace unless the aircraft is equipped with an ADS-B Version 2 system transmitting on 1090 MHz
a. Within Class B and C airspace
b. Within 30 Nm of the Mexico City International airport from the surface up to 10,000 ft MSL
c. Over Class B and C airspace within the lateral boundaries of the airspace up to 10,000 ft MSL
d. Within Class E airspace over Mexican territory at, or above, 10,000 ft MSL except when below 2,500 ft AGL
4) All aircraft with ADS-B equipment must be transmitting at all times

5) Any requests for deviations from this rule must be submitted to the ATC facility with jurisdiction over the airspace in question based on the following timelines:

a. To request authorization for the operation of any aircraft with an inoperative, installed ADS-B equipment for a flight to its destination, including intermediate stops or to a repair facility where reparations to the equipment can be performed, the request can be made at any time
b. To request authorization for the operation of any aircraft without an installed ADS-B equipment, the request must be made at least 1 hour prior to the anticipated departure time.
---
Mexico 406 MHz ELT Extension is now official
August 10, 2015. Published in the Mexican Federal Register on August 10, the last extension for the 406 MHz ELT requirement has been approved until June 30, 2018. The extension of the deadline for the installation of fixed 406 MHz ELTs on piston powered private aircraft with an MTOW of less than 12,566 lbs was one of the key points on the agenda presented by AOPA during the March 2015 meeting with Mexico's DGAC. We are very pleased with this outcome which exceeds the two year extension originally requested.

We thank the DGAC and the leadership of Gilberto Lopez Meyer and his team for their continued support.

Caribbean Sky Tours
---
Mexico 406 MHz ELT Extension
July 7, 2015. We received official confirmation today from Mexico's DGAC that a three year extension for the implementation of the 406 MHz in Mexico is under final review by the Judicial Department of the Secretary of Communications and Transportation. A final response should be given before the end of July, 2015.
---
MGGT CLOSED
February 7, 2015. The Guatemala City airport (MGGT) is closed due to volcanic ash. Pilots planning to fly to MGGT or in the vicinity should monitor this situation closely.
---
Time change Cancun, Cozumel, Chetumal
January 1, 2015. The time zone for the state of Quintana Roo which includes Cancun (MMUN), Cozumel (MMCZ), Chetumal (MMCM) will change to EASTERN TIME on February 01, 2015. The government of the state has not yet decided if they will participate in Daylight Savings or not.
---
Bahamas government has implemented new fees
July 2, 2013. Effective July 01, 2013 the Bahamas government has implemented new fees on aircraft landing in the Bahamas regardless if entering the country to visit or while in-transit on a refueling stop.

Aircraft that use a C7A INWARD General Declaration (Private Flights) will pay a US$ 50.00 fee on arrival
Aircraft that use a C7 INWARD General Declaration (commercial Flights) will pay a US$ 75.00 fee on arrival
Since Private Aircraft can also use a C7 as an INWARD Declaration, all PRIVATE flights SHOULD ONLY use a C7A as an INWARD General Declaration to avoid paying the higher fee. You can download the C7 and C7A forms from the Bahamas Section of the Procedures and Forms page of the Caribbean Sky Tours Member Website.

The US$ 25 Departure Tax remains in effect at its current amount of US$ 25 for crew and passengers.
Regrettably, there was little advance notice so all pilots flying to the Bahamas should take note to avoid any surprises.
For more details, contact Caribbean Sky Tours at +1-786-206-6147 or at info@caribbeanskytours.com
---