Flavor of the Bahamas
Cessna and Piper Owner Groups
5 Days/4 nights
Departs from KFXE in Fort Lauderdale, FL on Monday, March 8, 2010
Returns to KFXE in Fort Lauderdale, FL on Friday, March 12, 2010
Minimum number of aircraft required for tour: 8
Maximum number of aircraft allowed on tour: 15
Overview & Pricing
This trip is open to all pilots and types of aircraft. Join Cessna Owner and Piper Owner members on a trip to explore the Bahamas Out Islands and experience island life from a native's perspective with Caribbean Sky Tours. This trip takes us to the scenic island getaways of Hope Town, Staniel Cay and Cat Island. The colorful Bahamian village of Hope Town was settled in 1785 by British loyalists. The island is famous for its picturesque lighthouse which was built in 1864 and is one of only a few remaining manually operated kerosene burning lighthouses. Other Hope Town attractions include small shops and restaurants, beautiful beaches and a colorful marina. The next destination is Cat Island. On the our way there, we will overfly and appreciate some of the most remarkable Out-Island scenery. We have scheduled a lunch stop on Staniel Key, located on the Exuma chain of islands. An optional snorkeling tour of the "Thunderball grotto" will be available. After lunch, we will make the short flight to New Bight on Cat Island, known for its "rake and scrape" music and friendly people. During our stay on Cat Island, you can enjoy the resort's kayaks and explore the bay and nearby creeks or visit some local sites like "the Hermitage", a miniature monastery built atop "Mount Alvernia", the highest point in the Bahamas. Caribbean Sky Tours staff will be present throughout the trip and will review document and equipment requirements, assist with filing flight plans and eAPIS, and provide Bahamas immigration, customs and civil aviation documents to all participants.
This year's trip is being organized in conjunction with Cessna Owner Organization and Piper Owner Society, members receive special pricing. All pilots are welcome to join us on this trip.


| | |
| --- | --- |
| Member Price: | $375 Airplane registration (non-refundable) |
| | $875 per person double occupancy |
| | |
| --- | --- |
| Non-member Price: | $375 Airplane registration (non-refundable) |
| | $950 per person double occupancy |
Cost per additional person or for single occupancy available upon request.
Navigation Information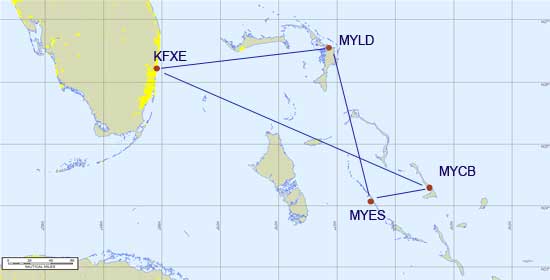 Our route will take us over water and life jackets are required for this trip. Life rafts and a GPS are also strongly recommended for this trip and can be purchased or rented from a number of FBO's or Pilot Shops. Contact us for more information.
| | |
| --- | --- |
| Ft. Lauderdale - Marsh Harbour | 169 NM |
| Marsh Harbour to Staniel Cay | 163 NM |
| Staniel Cay to New Bight | 55 NM |
| New Bight to Ft. Lauderdale | 281 NM |
| | | |
| --- | --- | --- |
| Airports of landing | ICAO Identifier | Runway length |
| Ft. Lauderdale | KFXE | 6,001 FT |
| Marsh Harbour | MYAM | 5,000 FT |
| Staniel Cay | MYES | 3,030 FT |
| New Bight | MYCB | 5,050 FT |


Itinerary
There will be a pre-flight briefing Monday morning, March 8'th at 8:00 am at the Banyan FBO terminal, Fort Lauderdale Executive airport for a trip review and briefing.
Day 1 Sunday
| | |
| --- | --- |
| | Meet at the Banyan FBO at the Fort Lauderdale Executive for our pre-departure briefing and flight to Marsh Harbour on Abaco Island where we will clear customs and immigration. We will take a taxi to the ferry landing and board the ferry to Hope Town, a colorful and quaint island village located on Elbow Cay. Check into Hope Town Harbour Lodge and enjoy a cocktail welcome reception at the hotel. |
Day 2 Monday
Rent a golf cart and explore Elbow Cay. Enjoy visiting local shops and relax on the beach or at the pool bar. In the evening we will have a pre-flight briefing for our trip to Staniel Cay and Cat Island the following day.

Meals Included: Breakfast
Day 3 Tuesday
Meet at the hotel's ferry dock to take the ferry over to Abaco and head back to the airport. On our way to Staniel Cay, enjoy a birds eye view of breathtaking Bahamian scenery such as Crystal Window, an amazingly narrow gap that separates north and south Eleuthera, as well as a series of picturesque sand banks known as the Schooner Cays. We will land on Staniel Cay in the Exumas and enjoy a Bahamian lunch at the Staniel Cay Yacht Harbor. An optional tour to the "Thunderball" grotto where scenes of this famous James Bond movie were filmed is offered. After lunch, we continue on to New Bight on Cat Island where we will check into the Fernandez Bay Village.

Meals Included: Breakfast
Day 4 Wednesday
Enjoy the beautiful long beach and turquoise bay waters, do some kayaking and explore Cat Island. Visit the Hermitage on Mount Alvernia, the highest point in the Bahamas with a whopping 206 feet of elevation! Take the opportunity to enjoy a meal at a typical Bahamian island restaurant on the shores of the beach. In the evening, we will have a pre-flight briefing for our flight back to Fort Lauderdale the following day.

Meals Included: Breakfast
Day 5 Thursday
Mid-morning departure from the New Bight airport and return to Fort Lauderdale Executive airport to clear US CBP.

Meals Included: Breakfast
Sign-up procedure
STEP 1:

Reserve

your spot by submitting your deposit and providing your contact information. To process on-line, click button on right or contact Caribbean Sky Tours.

Call us

STEP 2:

Download and complete the forms for participant and aircraft information and send to Caribbean Sky Tours

STEP 3:

Submit balance of payment no later than 30 days prior to trip date.